I have always been a big fan of the companies owned by Loopmasters. These include LoopCloud, Plugin Boutique as well as Loopmasters themselves. Each of these sites caters for its own area of the music production process. Plugin Boutique (as the name suggests) provides access to all the best effect and instrument VST plugins. Loopmasters provides loops, midi sequences, etc and LoopCloud is the software that allows you to store your loops (whether they be from third-party sites or Loopmasters). LoopCloud 6 takes an awesome piece of software and makes it even better, but how much better is LoopCloud 6? In this post, we will discuss why LoopCloud 6 is the best thing since…the invention of the internet.
There are affiliate links and banners in this post. If you click on them and make a purchase, I will make a small commission. This will be at no additional cost to you. This helps me to support my family. I would like to say a BIG thank you in advance for your interest and custom.
What is LoopCloud and Why is it an Essential Music Production Tool?
The reason why I consider LoopCloud to be such an essential tool for music production is because it allows you to store loops, samples, midi files, etc, in an easy to find way where you can search under various different search criteria. For instance, you can search for rock music and guitars. If you are searching for trance effects, you can simply search under trance and effects. You can also search for a tempo and a key. If you are searching for something that is in 138bpm and in the key of A minor, you can do that quickly and easily. The engine running the app will provide you with both results that you already own and ones that are available for you to purchase.
How Much Does It Cost to Purchase an Asset?
By the term asset, I mean a loop sample, one-shot or midi file (anything you can purchase from Loopmasters). In fact, when you do purchase files from Loopmasters, they are automatically delivered to your LoopCloud 6 account.
As a subscriber to LoopCloud, you are given a number of credits based on what plan you are on. Here is a screenshot taken of the plans available on LoopCloud.
As you can see, as a subscriber to LoopCloud 6, you will get between 100 and 600 points (or credits) per month. A sound asset on LoopCloud will cost between 1 and 4 credits. You will find that most of them are available for 2 credits.
Subscribers get 1 GB welcome pack that includes tonnes of sound assets. If you would like cloud storage so that you can access your sound assets on any device with an internet connection. This is between 5 GB and 250GB.
However, you have a limit on the numbers of machines that you can use with LoopCloud 6. This is between 2 and 4 machines.
Finally, you will get a number of free credits per day even if you are on a free plan. The most number of free sounds you can pick up is 50 per day.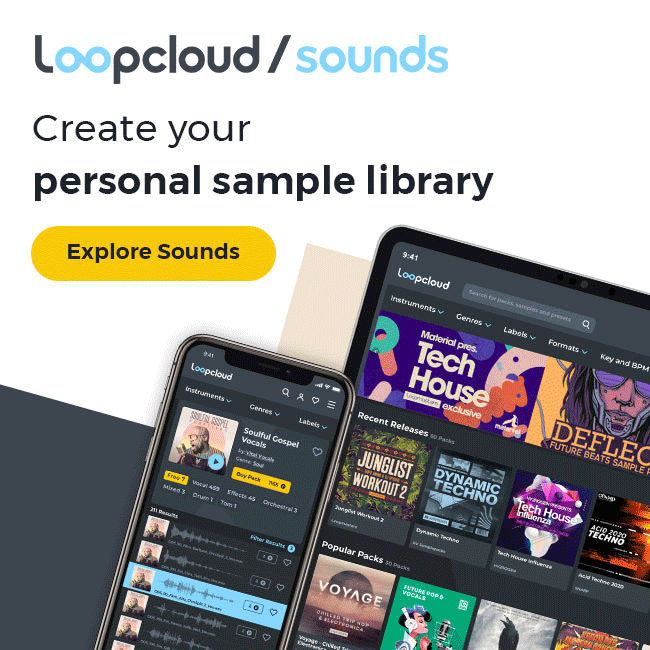 Are All of These Sounds Available Directly From Loopmasters?
I have found that not all the sounds I can find on Loopmasters are available in LoopCloud. However, you are perfectly fine to upload these products to your cloud storage. A great thing about cloud storage is the extra security that you have. Ideally, you must save all of your important files in cloud storage. There are probably a few more, but these are the recommended options.
What is New in LoopCloud 6?
The best benefits that you now have on LoopCloud 6 in\clude harmonically and rhythmically matchined assets. On the results page when you search, there is a column that says MATCH. It has a black and white circle underneath. To find rhythmically and harmonically compatible sound assets, you need to right click on the little circle and choose from the options. Please see the screenshot below…
Where Can You Purchase LoopCloud 6?
You can learn even more about LoopCloud 6 from Plugin Boutique. The teacher of this course is the guy from Producertech. Producertech is another great music production tutorial site.
The actual LoopCloud 6 software is available here. The plans are available for £5.99, £9.99 or $17.99 (please see the screenshot above). You can subscribe to LoopCloud 5 here.
You are also welcome to read my review about LoopCloud 5 here, or choose from my other recent posts below…